Through the decades there have been only 576 humans to have traveled beyond Earth's atmosphere. In particular, Dennis Tito, an American Entrepreneur, paid $20 million to become the first space tourist to the International Space Station. Space Travel has resurrected and now is the new frontier for human expansion. Today, we will breakdown the first public company aimed at pioneering human spaceflight. Virgin Galactic (SPCE), will aim to transform commercial spaceflights.
Business Summary:
Virgin Galactic is a vertically integrated, aerospace company, that aims to pioneer the space travel industry by offering customers "future astronauts" a transformative space flight experience. The customers will experience views of Earth from space and a weightlessness experience for several minutes. The company's primary focus will be focused on human spaceflight for recreation and research and evolve to be the premium brand with affordable, safe, reliable, and regular transportation to space. The following strategies will be used to accomplish this:
Commercial Program for Human Spaceflight: Two successful spaceflights completed with one scheduled in October and Q1-2021 flying Sir Richard Branson

Fleet Expansion: Fleet will include five SpaceShipTwo Vehicles and two WhiteKnightTwo carriers

Lower Operating Costs: Commercial Operations will begin to spread out costs

Leverage Technology: Technology will be leveraged for other frontiers such as high-speed vehicles that will reduce point-to-point travel
Technology Features: In 16 years the company holds proprietary technologies that enable successful spaceflight.
Carrier Aircraft - WhiteKnithTwo: custom-built aircraft that carries the spaceship to an altitude of 45,000 feet

Spaceship – SpaceShipTwo: designed to carry two pilots and six astronauts and can achieve speeds of over Mach 3 with flight duration of 90 minutes. The aircraft is fully reusable

Hybrid Rocket Motor – RocketMotorTwo: Rocket can turn off any time and produced from material that does not require special storage. It uses a hybrid system that contains a solid fuel grain cartridge and liquid oxidizer

Spaceport America: First purpose-built commercial spaceport in the world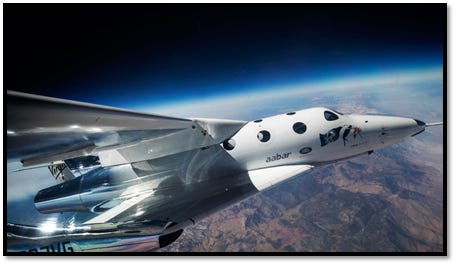 The company's vision as stated in the S-1, is: "We are a pioneering commercial human spaceflight with a mission to enhance our world by opening space to a broad audience and facilitating the further exploration of our universe."
Industry:
The commercial space industry represents one of the most exciting frontiers in human history. For the last decades, spaceflight has been limited to government agencies and dedicated as research missions. To date, only 576 humans have ever traveled above the Earth's atmospheres into space. A series of trends have emerged opening the opportunities of spaceflight beyond government space agencies due to advancing technologies, decreasing costs, and open innovation models. The following trends are emerging:
Human Spaceflight

Satellites

Payload Delivery

Methods of Launch
Market Opportunity:
The total addressable market for commercial human spaceflight has not been determined and is still evolving. The U.S. Chamber of Commerce has released that in 2040 the total addressable market will be at $1.5 trillion from $385 billion. This represents 5% of the U.S. Gross Domestic Product. High net worth individuals will be next in line to access human spaceflight. It is estimated that there are 43 million individuals globally with a net worth greater than $1 million.
Business Model Landscape:
Virgin Galactic intends to generate its core revenue through a direct sales approach process that is personalized and consultative. The one-on-one sales approach results in a go-to market strategy utilizing the direct sales organization and the brand value of Virgin Galactic and founder Sir Richard Branson.
Spaceflight tickets are originally set a price point of $250,000 and subject to increase due to demand
The simple reservation model has resulted in the following expected revenues.
As of July 30, 2020, the company has had 600 reservations amounting to $80M

Customer backlog represents approximately $120M in expected future revenue

90% of reservation holders have a net worth of >$1M

70% of reservation holders have a net worth of <$20M

The current customer base will have a net worth of >$10M

Feb 2020, One Small Step campaign launched allowing customers to place $1,000 refundable deposits towards the cost of future ticket sales when the company re-opens them. The campaign confirmed 700 deposits.
Competitive Strengths (Moats):
The company aims to dominate the commercial space industry. According to the S-1 filing, Virgin Galactic has identified a series of advantages.
World-class management and flight team: Team includes former Chief of Staff for NASA and NASA's space shuttle launch integration manager. Pilots have 126 years of collective flight experience ranging from NASA, Royal Air Force, U.S. Air Force, Italian Air Force, and the U.S Marine Corps.

Differentiated technology and capabilities: Spaceflight system and assets ranging from the spaceship, rocket motor and carrier.

Brand Strength: The spaceflight experienced is customized and tailored to develop a lifetime experience in becoming an astronaut. The Virgin Galactic brand is customer-centric and runs throughout the entire journey. The brand's pillars are innovation, customer experience, adventure, and luxury.

High Barrier to Entry: The development of the platform and capabilities of the company required more than $1 billion in total investment to date.

First Commercial Spaceport: Spaceport America is located in New Mexico with 6,000 square miles of restricted airspace from the ground to space. The facility is built for advanced functionality and aesthetic beauty for the customer experience.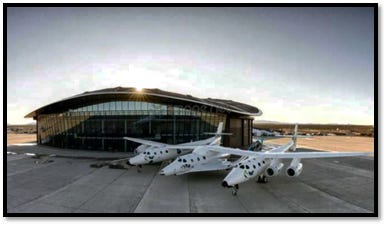 Competition/Risks:
The company has highlighted certain competitive and operational risks that may affect its performance.
Competitor: In the market, Blue Origin is looking to develop a vertically launched, suborbital spaceship. SpaceX and Boeing also fall in the same realm of competition, but their focus remains with space exploration directed by government agencies. The competitors are large with favorable capital investments and government agency support

Government Regulations: The company is heavily depended on obtaining additional approvals, licenses, or certifications from the FAA

Commercial Spaceflight Risks: Spaceflight has significant risk and any perceived or actual threat in flight from the company or competitors can create sever government regulation and restrictions. Reputation is key

Flights Tests at Full Passenger Capacity: To date, only one spaceflight included a crewmember that was not a pilot. Spaceflight is scheduled in October with a crew which will follow with another flight that includes Sir Richard Branson

Revenue Stream: Deposits, orders in backlog, and any inquiries have not been converted to revenue. All the classifications of deposits are refundable, and reservations may be canceled without penalty meeting certain conditions. Delays in planned flights can result in a significant drop in expected revenue
Team:
The company's founders and executive team are veterans in their respective fields.
Michael Colglazier, Chief Executive Officer: Michel brings 30 years of experience from Disney developing a consumer-centric multi-billion dollar business

George Whitesides, Chief Space Officer: George served as Chief of Staff at NASA and built Virgin from 30-900 people. He transitioned from CEO to CSO where he will focus on developing future business opportunities in point-to-point hypersonic travel and space travel

Sir Richard Branson, Co-Founder: Richard Branson, an acclaimed business mogul and billionaire investor that founded the Virgin Group which controls more than 400 companies. His brand and network are a key element to the success of the company

Chamath Palihapitiya, Chairman: Chamath is an acclaimed billionaire investor who took Virgin Galactic public through a merger with his SPAC. He is a key source of leadership in the strategic direction and financial health of the business. He is also a principal investor that maintains 15.5% ownership and 10.9% ownership from his firm Social Capital Holdings.
Financial Performance:
The company has 195.59 outstanding shares at a price of $17.20 resulting in a market cap of $3.5 billion. In a span of 52 weeks, the stock ranged from $6.90 - $42.49.
The company to date has generated revenue by transporting scientific commercial research and payloads using spaceflight systems and engineering services with the U.S. Government. It achieved $3.8 million in revenue for the fiscal year ending 12/31/2019, a 33% increase over the $2.8 million earned in 2018. More recently the company earned $238 thousand in six months ended June 30, 2020, resulting in a -90% YOY. This was caused by reduced engineering services, payload revenue, and reduced sponsorship agreement.
The company is showing any progress to revenue due to test flights still being conducted. They have yet to become profitable. 12/31/2019 and 06/30/2020, net loss was $211 million and $122 million. Gross Margins for the core business are not currently reflected but as of the services in 2019 they were about ~46%.
The main cost associated is the consumption of rocket motor, fuel, payroll, and benefits. The cost of revenue will include vehicle deprecation once the spaceships are placed into service. To date, the spaceship development costs have not been capitalized.
The technology, team, and the current macro environment are creating an ecosystem that will allow Virgin Galactic to become a leader in space tourism and travel if they deliver on the plans that are outlined.
Virgin plans to continue growth through the following strategies:
Direct Sales Team: Grow team by using a global network of high-end travel experts referred to as "Accredited Space Agent"

Research and Development Applications: The company has flown 8 payloads for research-related missions and will expand

Manufacturing Capabilities: Additional growth in using Virgin's rocket motors, spaceships, and additional vertically integrated technologies in programs across the industry

Potential Application Technologies: Supersonic and hypersonic point to point travel. The initial concept of high-speed aircraft could travel to Mach 3 and accommodate 9 – 19 passengers.

Premium Spaced-Focused Experiences: Agreement with NASA to develop a Private Orbital Astronaut readiness program focusing on training. The program will be tested on 12 Future Astronauts.
- Igli
---
You can access and download the detailed report here which will include high-level financials. If you like the content please make sure to share this newsletter, share this post, or subscribe (if you have not already)!