Hi Everyone,
It's obvious today that we all live in the "intelligence economy". Companies need to have the ability to understand their data quickly and generate real-time insights. Data is generated from multiple sources in any organization and can be very difficult to consume. However, today we will breakdown Sumo Logic (SUMO), the company with the goal to "close the intelligence gap" in the digital world.
Business Summary:
Sumo Logic is a cloud-based machine data analytics tool that aggregates and unifies all the company's machine data in one place to generate actionable insights in real-time. The company leverages artificial intelligence and machine learning capabilities to automate the collection, consumption, and analysis of data. Customers can monitor their application, cloud, and on-premises infrastructure. They can rapidly detect and resolve security threats. Additionally, they can also analyze key performance indicators from various types of machine data to gain insights about their customers' behaviors, engagements, and actions. The end-to-end enterprise software intends to utilize its continuous intelligence platform and to deliver four main solutions that close the intelligence gap for customers.
Operational Intelligence

Security Intelligence

Business Intelligence

Global Intelligence
Technology Features: The platform is a multi-tenant, cloud-native that provides log management and analytics delivering the following benefits:
Data Collection and Management: Platform scans 873 petabytes of data per day and an average of 18.6 billion events per second.

Visualization and Exploration: Offers powerful data exploration, filtering, and visualization to empower users with insights and intelligence.

Search and Analytics: Proprietary analytics enables monitoring, troubleshooting, and identifying operational, security, and compliance incidents.

Architecture and Security: The platform is hosted on AWS and runs across multiple regions with multiple AWS data centers. Data is encrypted in transit and in rest.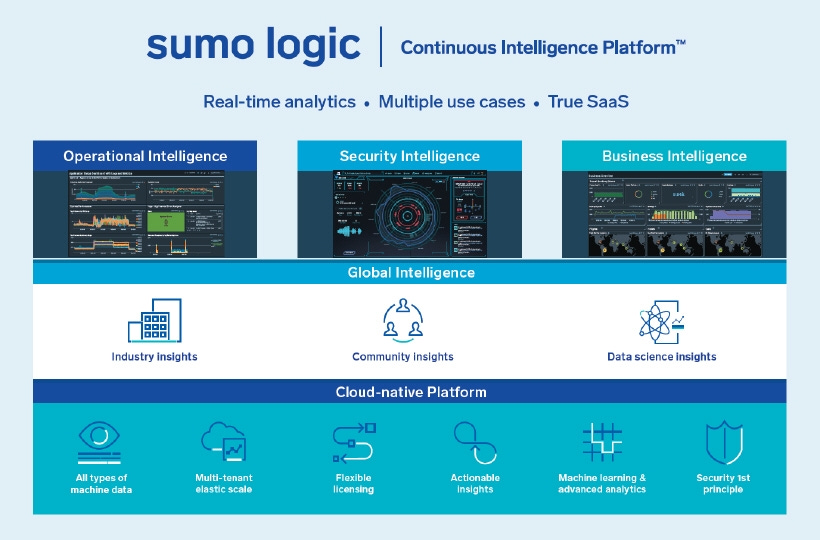 The company's visions as stated in the S-1, is: "to democratize machine data, making insights from this rich source available to all."
Industry:
Software is eating up the business ecosystem. Businesses must be able to evolve into the digital world with the ability to aggregate, digest, and analyze large data that delivers insights. With rising complexity, the industry faces challenges ranging from manual processes, unscalable on-premises software, and outdated licensing models. To tap into the benefits of differentiated digital services, organizations must adopt new approaches to their software architecture, tools, and development process. As a result, the following trends have emerged in the enterprise solutions ecosystem relating to data optimization and analytics.
Modern Application Architectures

Multi-Cloud Adoption

Continuous Security

Continuous Real-Time Sharing of Data

Data-Driven Intelligence
Market Opportunity:
The total addressable market in the intelligence economy is estimated to be $55.1 billion. This market involves activities related to predictive analytics software, AI software, and analysis software.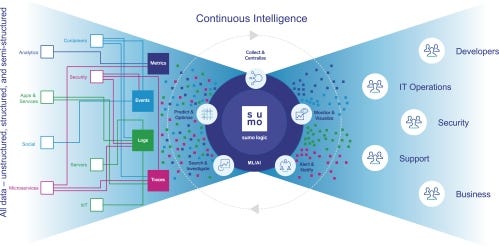 Business Model Landscape:
The company generates revenue through a sale of subscriptions. Subscriptions are usually annual but can be three years or longer. The company provides also a tiered-subscription model based on volume of data collected, duration of data retention, and platform functionalities and features. Sumo Logic ensures customers have flexibility in to consume and analyze data with the appropriate functionalities of the platform. To execute the subscription model, the company deploys a go-to-market strategy that includes self-service on the website, inside and field sales team, and partner channels. The company has had high success with its land-and-expand approach to transform customers using the free platform to use the premium subscription tiers.
The following customer landscape is created based on the revenue model Sumo Logic has created:
2,100 customers as of 07/31/20 with over 125,000 users

330 customers with >$100,000 in ARR and 29 customers with >$1 million in ARR

No customer represented more than 10% of revenue and they range from cloud-native companies to companies undergoing digital transformations

Examples of customers include Netflix, Major League Baseball, Pokémon USA, JFrog, JetBlue, Qualtrics, Salesforce.com, 23andMe, Ticketmaster

On average the annual recurring revenue of the customer base grew at a compound growth rate of over 35%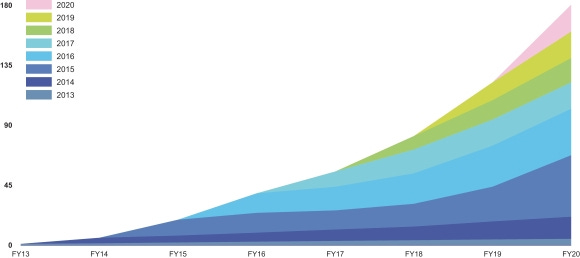 Competitive Strengths (Moats):
The company aims to close the intelligence gap for customers. According to the S-1 filing, Sumo Logic has identified a series of advantages.
Network Effects: Users can share insights and collaborate with each other. More users, more insights, greater amounts of data consumed in the platform which in return results in greater insights to new users. A flywheel effect is created with customer adoption. Additionally, the company can harness insights from customer's application architecture, and processes and benchmark them across new customers. This allows the company to offer greater value as the customer base grows.

Continuous Intelligence Platform: The platform is designed to collect and centralize data from a multitude of sources with seamless integration and often used for operational intelligence. The data-to-everything platform can be applied to almost any use case in an organization.

Accessibility to the entire organization: The platform offers enterprise-class access control and 175 out of the box applications to users. Teams can easily perform and share analysis across functions, set alerts to identify teams of events and deliver information to the correct groups.

Service and support broad customer base: The platform is designed with an easy to use and intuitive interface which includes visualizations, dashboards, and alerting capabilities. Customization for heavy technical users is also available. Any skill level can be easily on-boarded.

Flexible subscription model: Relative to its competitors, the company offers cheaper pricing for the services. The subscription packages are simple and designed to provide customers with the ability to expand their use.
Competition/Risks:
The company has highlighted certain competitive and operational risks that may affect its performance.
Competition: There are established businesses in the cloud-data analytics world. Key competitors include Splunk and Elastic. These companies have more capital and resources at play and can mitigate growth opportunities.

Packaging and Licensing Model: The industry is relatively new but with large players when it comes to their respective business models. The company could face downward pressure from customers regarding pricing or direct pressure from competitors. Also, multi-tiered packaging and licensing is highly vulnerable to economic conditions. Customers can cancel due to short-term contracts.

Long and unpredictable Sales Cycle: Long-term sales cycle is a risk when expanding to new customers. With unexpected events like Covid-19 and economic downturn, customers are operating at limited budgets. This can put the sales process at risk.

Security Risk: The platform collects, stores, processes, and transmits customers' data. The brand heavily relies on strong security measures to protect the data. Any breach can lead to lack of trust and a drastic loss of customers.

Amazon Web Service Reliance: To deliver the platform the company relies on AWS for the cloud infrastructure services. Any changes to the structure of the agreement can result in outages of the platform and negative financial impact.
Team:
The company was founded in 2010 by big data and security experts. The current team is composed of the following:
Ramin Sayar, President and CEO: Mr. Sayar served as SVP and GM for the cloud management business unit at VMware.

Christian Beedgen, Co-Founder and CTO: Prior, Mr. Beedgen served as Chief Architect, Director of Engineering at ArcSight and Co-Founded Gigaton, a cloud file management company.

Sandeep Khanna, Chief Development Officer: Prior Mr. Khanna served as Partner Director of Engineering at Microsoft and various roles at Yahoo, Inc.
Financial Performance:
The company has 98.7 million outstanding shares at a price of $21.80 resulting in a market cap of $2.15 billion.
The company has achieved $155.1 million in revenue for year 2019, a 50% increase over the $103.6 million earned in 2018. More recently the company earned $96.6million in six months ended 07/31/2020 resulting in a 38% YOY.
The company has yet to make profits. As of 2019 and 2018 net losses were $92.1 million and $35.9 million. Gross Margins for the business for 2019 were around ~71%.
Additionally, the net dollar retention rate for Sumo Logic has fluctuated between 120% - 130%. The company has experienced an ARR of 46% in 2019 and 11% as of 07/31/2020.
Sumo Logic plans to continue growth through the following strategies:
Grow customer base: 16% of revenue came from international customers. Sales and marketing efforts in EMEA are a key focus.

Expand services within the customer base: Make it easy and cost-effective to increase data consumption for customers. This will expand the existing base with locked subscriptions.

Enhancing innovation: New cloud-native SIEM and comprehensive solution to offer real-time visibility and security intelligence.

Strengthen technology partnerships: Utilize AWS marketplace to enhance reseller partnerships
-Igli
---
You can access and download the detailed report here which will include high-level financials. If you like the content please make sure to share this newsletter, share this post, or subscribe (if you have not already)!