Hi Everyone,
In anticipation of the IPO tomorrow, we decided to breakdown the one and only Snowflake (SNOW). This company is causing a snowstorm, as it is estimated to be valued between $27 - $30 Billion.
Business Summary:
Snowflake offers a cloud-based data warehouse platform optimized to act as a central database where customers can generate real time analytics to deliver insights. The company was founded in 2012 by data warehouse experts (two of which came from Oracle) to create an ecosystem that allows customers to break down data silos and derive value quickly from rapidly growing data. 
The company built the data cloud platform on a cloud-native architecture that supports data engineering, data lake, data warehousing, data science, data applications and more importantly data sharing. The architecture is built in three major public clouds across 22 regional deployments around the world. The company has interconnected all the pieces to create a single Cloud Platform that offers consistent user experience around the world.

Technology Features:
Storage layer: integrates massive amounts of diverse data sources into a unified data record. This is dynamic and can grow.

Compute layer: provides dedicated resources to allow users to access common data sets simultaneously and seamlessly

Cloud services layer: intelligently optimizes the customers performance in the cloud with no maintenance.
The company's vision as stated in the S-1, is: "We believe in a data connected world where organizations have seamless access to explore, share, and unlock the value of data."
Industry:
Companies understand the explosion of data and the ability to utilize their large data sets to deliver value in the market. In the past, organizations have leveraged their data through silos preventing them from realizing the full value of their data. As a result, organizations end up investing significant capital in infrastructure clouds, application clouds, and on-site systems that are disconnected. Legacy database architectures lack scalability and capacity constraints and are not designed for the adoption of cloud-based workloads. Realizing this, Snowflake has tapped into the following industry trends to ensure product market fit.
Data is at the heart of business innovation and performance

The center of gravity is the public cloud to migrate data in a global, dynamic, and multi-cloud ecosystem

The digital economy has created data consumers

Technology consumption has evolved to embrace a utility business model where consumers pay only for what resources they use
Market Opportunity:
The total addressable market for the cloud data platform is $81B. According to IDC, the markets for Analytics Data Management and Integration Platforms and Business Intelligence and Analytics Tools, is estimated at $56B with a potential 50% growth by 2023.
Additionally, data sharing is a feature that is relatively new, and the company believes this opportunity is largely untapped.
Business Model Landscape:
Snowflake delivers its platform through a customer-centric, consumption-based business model, only charging customers for the consumption resources they use. The customers usually engage in a one-year contract term with the commitment to a certain amount of consumption at specified prices.  
Majority of the revenue resides in the compute layer that houses the virtual warehouse allowing customers to access the common data sets.
Initially, many customers begin the process through a self-service trial on the company's website. This transitions then into the direct sales team which is focused on new customer acquisitions and driving increased usage of the platform for existing customers.
This pricing and sales model highlighted above delivers strong growth for Snowflake resulting in the following customer landscape and performance.
YTD Snowflake has 3,117 customers, increasing from 1,547 customers as of July 31, 2019

7 of the Fortune 10 (4% of revenue for six months Jul 2020)

146 of the Fortune 500 (26% of revenue for six months Jul 2020)

Examples of customers (Adobe, Logitech, DocuSign, Square, Doordash, Capital One and Sony)

International customers generated 12% of the total revenue

Accumulated cash value of 56 customers is > $1M (+156% YOY).

Net revenue retention rate for customers is 158%
Competitive Strengths (Moats):
The company aims to dominate the cloud-data warehouse space. According to the S-1 filing Snowflake has identified a series of advantages.
Strong Network Effects: The Data cloud will expand as more customers/organizations move their data from siloed data repositories into the cloud. This will create the ability to exchange data between customers. The secure data exchange fosters an ecosystem of increasing the value of shared insights.

Example: "Starschema Inc., a data provider to leading organizations, made its COVID-19 epidemiological data available on our Data Marketplace on March 18, 2020. As of July 31, 2020, hundreds of Snowflake customers have consumed this data directly from their accounts to analyze the impact of the outbreak."

Strong Management Team: The company has retained strong data architect teams, and data engineers led by CEO Frank Slootman who took two prominent software companies public, specifically ServiceNow – highly cloud software company at $65B. Retaining this talent is crucial to success.

Usage-based pricing model that distinguishes it from adapted-to-cloud service providers.

Optimize and integrate diverse data sources into one source

Supports large amounts of data through the cloud creating ability to elastically scale-up or down per the demands of the customer

Dynamic use of data simultaneously across the organization and delivering consistent, global user experience

Easy to use and access data allowing customers to utilize familiar business model languages like (SQL)

Seamless interaction resulting in reduce time spent managing infrastructure
Competition/Risks:
The company has highlighted certain competitive and operational risks that may affect its performance.
Snowflakes current competitors entail large, well-established, public cloud providers that generally compete in all the markets, including AWS, Azure, GCP, Cloudera.

A key point to highlight is that the company understand a large portion of the business is run on the AWS public cloud.

Disruptions in the with the public cloud infrastructure can impact costs and gross margins drastically. It is crucial to understand the space is dominated by Amazon Web Services (AWS), Microsoft Azure (Azure), and Google Cloud Platform (GCP)

Expansion of the company's sales and marketing organization to increase new and existing customers is crucial. Capital One - accounted for approximately 17% and 11% of the revenue in 2019 and 2020.

Large Customers require significant investment in the sales processes exposing the company to risk.

Data regulation is evolving quickly regarding privacy concerns. Legislation can impact operating costs leading to lower performance. It can force the company to make changes to the invaluable sharing service and the quality of data in the cloud. Examples of legislation that have passed in Europe and locally in the U.S. reveal a strong push from legislative bodies.  

General Data Protection Regulation (GDPR) - established requirements applicable to the handling of personal information of residents of the European Union (EU).

In January 2020, the California Consumer Privacy Act (CCPA) took effect, providing California residents increased privacy rights and protections
Team:
The company's founders and executive team are veterans in the cloud-data warehouse sphere.
Frank Slootman, CEO; before joining the company, Mr. Slootman served as Chairman of the board of directors of ServiceNow, Inc., an enterprise IT cloud company that he successfully took public.

Michael P. Scarpelli, CFO; before joining the company served as Chief Financial Officer of ServiceNow, Inc. for eight years.

Benoit Dageville, Co-Founder and President of Products; before founding the company, Dr. Dageville served in various engineering roles at Oracle Corporation, a software and technology company

All three leaders total a compensation package of $83M (mainly concentrated in the company's stock)

The company will issue Class A, B shares. Class B shares represent 86% of shares outstanding and 98.6% of voting power. Total Outstanding shares are 277,290,066

Salesforce Ventures LLC and Berkshire Hathaway Inc. will purchase $250 million of Class A common stock (initial public offering price of $105.00 per share) representing 2,380,952 shares of Class A
Financial Performance:
The company achieved $264.7 million in revenue for fiscal year ending 01/31/2020, a 174% increase over the $96.7 million earned in 2019. More recently the company earned 242 million in six months ended 2020 resulting in a 133% YOY.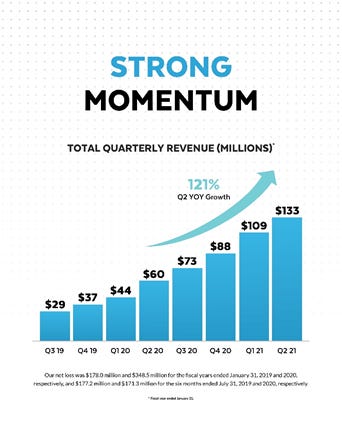 While the company is showing strong momentum in growth, they have yet to become profitable. January 31, 2019 and 2020, net loss was $178.0 million and $348.5 million. In contrast, Gross Margins of ~60% show promising outlook of eventually breaking even as sales continue to accelerate.
In addition to the performance highlighted above, Snowflake has shown excellent levels of customer retention. This is a strong indicator of overall health and growth of the platform. It signifies that customers find recurring value in the cloud data warehouse platform.   

Similarly, Snowflake has been able to increase its ARR steadily by 52% YOY. This results in about $0.17M ARR per customer.

The company plans to go public at a price range of $100 – $110 per share (S-1 highlights $105). This gives the company an epic market IPO value between $27 - $30B.
Snowflake plans to continue growth through the following strategies:
Advance the Data Cloud through the adoption of the platform

Expand and innovate the data exchange providing industry leading sharing capabilities.

Drive growth by acquiring new customers. Added ~725 customers fiscal year to date

Drive increased usage within the existing customer base; net revenue retention rate was 158% as of July 31, 2020.

Expand data sharing across the global ecosystem through the Snowflake Partner Network.
- Igli
You can access and download the detailed report here which will include high-level financials. If you like the content please make sure to share this newsletter, share this post, or subscribe (if you have not already)!