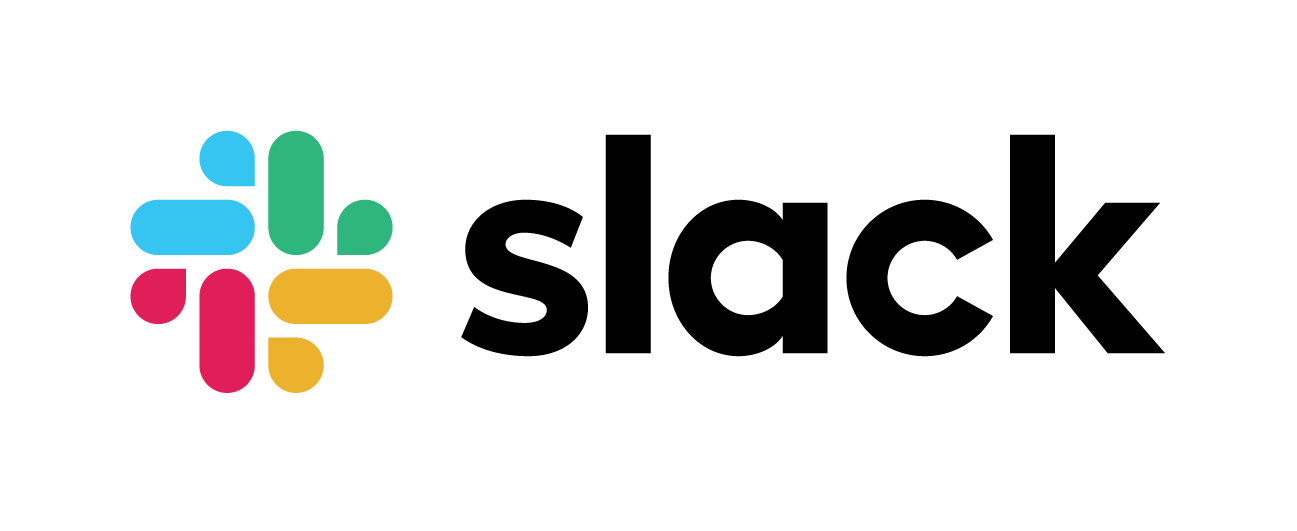 Hi Everyone,
The way we work has been a prime focus for many software companies. Automation, transparency, and integration are key trends that are emerging in the space. Today we will breakdown Slack (WORK), the company with the goal to "make people's working lives simpler, more pleasant, and more productive."
Business Summary:
Slack is a messaging software platform that allows people to connect and work together more effectively. The enterprise software is intended to initially replace e-mail and aimed at supporting any activity related to work. These activities can range from hiring, coordinating executive plans, planning budgets, organizing political campaigns, and many other forms. The company is a new layer of the business technology stack that brings together people, applications, and data.
The company creates a hub of shareable business information inside and across organizations. The information is streamlined, transformed, and directed to the correct people to leverage productive decision making.
Technology Features: Slack was designed from the ground up to create a platform with scalable integration capabilities. It can achieve this scale with the following features:  
Messaging and team-based channels: Brings the right people to collaborate and share information. More than 15% of Paid Customers have adopted shared channels and on average a customer has four channels

Advanced Search: Users can tap any information stored in the software and use it as needed. Machine learning is also used to help in accessing a rich archive of stored information.

Software Application Integration using Workflow Builder: Design custom applications or access third party applications (Salesforce, Shopify, Zoom, etc.) to interact with information from the channel. 620k applications have been used or created as of 01/31/2019.

App Directory: Access and list of applications that address anything related to knowledge work.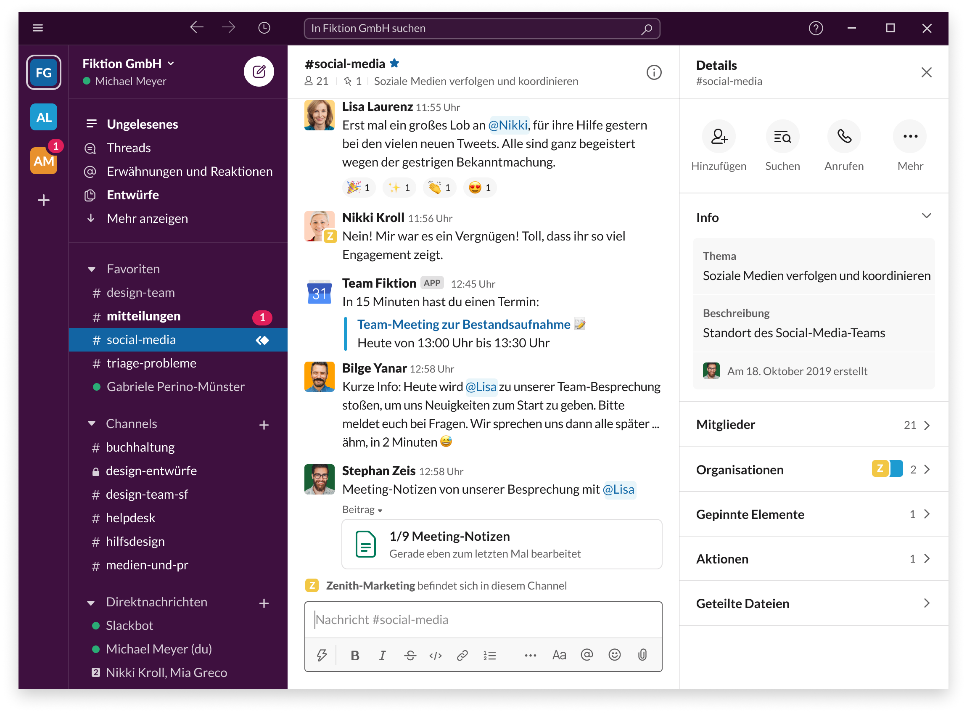 The company's vision as stated in the S-1, is: "Our vision is a world where organizational agility is easy to achieve, regardless of an organization's size."
Industry:
As software is expanding, customer's needs, competitor's behavior, and overall macro conditions are also rapidly evolving. The change creates new opportunities in the way information created by software at work is shared across organizations. E-mail has been the bridge of communication for enterprise software and has proven to be an ineffective method when it comes to sharing and managing information. Current forms of communication create endless threads of communication and often operate in silos. Information becomes inaccessible and overall organizational transparency deteriorates. Due to the fast-demanding landscape, the following industry trends have appeared based on market needs:
Simple and intuitive communication platforms

Accessibility through channel-based communication

Integration of existing software applications with the communication platform

Organizational agility
Market Opportunity:
The total addressable market for workplace software platforms for communication and collaboration is around $28 billion. The company ultimately believes and aims to shift any customer's working life who is consumed by e-mail.
Business Model Landscape:
Slack offers a self-service approach, for both free and paid subscriptions. Slack generates revenue through a subscription model consisting of four stages: Free, Standard, Plus, and Enterprise Grid
The first three subscription plans apply to small or medium-sized teams

Enterprise Grid plan is designed for larger organizations that require multiple workspaces, centralized secure data controls, integration of software applications, and unlimited communication channels.
The go-to-market strategy relies on word-of-mouth and brand-awareness initially penetrating small teams in organizations. The initial phase creates user awareness and organic growth. Conclusively, the direct sales team is then used to expand to enterprise features. Slack also utilizes partnerships from top enterprise companies to integrate into organizations.
The subscription model and go-to-market strategy have resulted in the following customer landscape.
As of January 31, 2020, Slack has 660,000 organizations

An organization is a company, institution, or distinct business unit on a free or paid subscription

550,000 organizations are on free subscriptions

110,000 organizations are classified as Paid Customers

Paid Customer is an organization with three or more users on paid subscriptions
During the years ended in 2019 and 2020, no Paid Customer accounted for more than 3% of revenue
1.4 billion messages were sent on Slack during a week and a user connected on average 9 hours a day and active 87 minutes
985 paid customers were >$100,000 ARR which accounted for 49% of revenue.

All Amazon employees have access to Slack.
Competitive Strengths (Moats):
The company aims to workplace communication software industry. According to the S-1 filing, Slack has identified a series of advantages.
Organic User Growth: Self-service strategy allows users to understand the benefits of Slack. This customer engagement plants the seed for continuous growth.  

Network Effects: The slack network allows communication and collaboration through shared channels. This ecosystem fosters value creation for each additional and existing user or organization. In addition, the platform also allows developers to build or integrate more apps to create incremental value. Slack Connect which allows external secured connections to other organizations is a leap forward in the industry.

Customer-Centric Design: Software and user interface are key elements. Slack has revamped the user interface to allow for clean messaging, access to apps, and organizational features that make information transfer simple and productive

Scale and market leader: Slack has a high user engagement, and which opens natural opportunities for scale. The platform is easy to use and intuitive with little required workforce training at an organization.
Competition/Risks:
The company has highlighted certain competitive and operational risks that may affect its performance. In order to mitigate these risks, the company has to ensure product innovation and scalability.
Competitor: Slack principally competes against collaboration and communication platforms. Microsoft, Google, Cisco, Facebook, and more recently Zoom. The majority of these competitors are already integrated in the Slack's customer base in some limited fashion.

Regulation to the Privacy of Data: Compliance with certain regulatory acts such as HIPAA is important. The company has to ensure the security of private data for users in organizations to prevent government oversight and potential customer churn.

Growth Management: Slack must continue to add new users and organizations. The premium subscriptions are key to additional growth and due to the one-year contract commitment, consistent upgrades are necessary to satisfy customer's changing needs.

Platform integration and features: To maintain a competitive edge, innovation is key to offering features, integration, and enhancements. Capital constraints can severely limit the progress of the company opening it up to larger brands. Product differentiation and customer service are critical. The company granted $8.2 million in credits due to disruption in infrastructure during the quarter ended on 07/31/2019.
Team:
The company's founders and executive team are veterans in their respective fields.
Stewart Butterfield, Co-Founder, CEO: Prior to Slack, Stewart served as General Manager of photo-sharing website Flickr at Yahoo! Inc.

Robert Frati, SVP of Sales and Customer Success: Prior to Slack, Robert was SVP of Commercial Sales at Salesforce.

Cal Henderson, Co-Founder, CTO: Cal served as Director of Engineering at Yahoo Inc. and served as Director of Web Development at Ludicorp Research and Development LTD.

Chamath Palihapitiya, Investor and Board Member: Chamath's reputation as an acclaimed Billionaire and investor brought additional experience to the table. He owned 10% of the company and has claimed Slack to be the only investment he would make in the enterprise software realm.
Financial Performance:
The company has 570.5 million outstanding shares at a price of $26.69 resulting in a market cap of $15 billion. In a span of 52 weeks, the stock ranged from $15.10 - $40.07.
The company to date has generated steady growth and revenue from monthly and annual subscriptions. 62% of the revenue is generated in the U.S. It achieved $630.4 million in revenue for the fiscal year ending 01/31/2020, a 57% increase over the $400.6 million earned in 2019. More recently the company earned $417.5million in six months ended July 31, 2020, resulting in a 49% YOY. The pandemic sparked an initial influx of customer demand and then leveled out during the year due to economic conditions related to Covid-19.
While the company is expecting steady growth it has not achieved profitability. As of 01/31/2020, and 2019, the company's net loss was $571.1 million and $140.7 million. Gross Margins for the business as of 01/31/2020 were around ~85%.
Slack has achieved an ARR of 19% in 2020 and 49% ending 01/31/2020. While there is a slowdown due to the pandemic the company still maintains stable growth resulting in ARR of $863M as of July 31, 2020, and ARR of $8K per customer. 

Additionally as of July 31, 2020, the net dollar retention rate for Slack was 125%. Revenue continues to grow and the penetration into existing, long-term Paid customers is also increasing.
On April 9, 2020, the Company also issued an $862.5 million in convertible senior notes at a rate of 0.50% per year. The company is focusing on increasing its cash to continue growth and achieve break-even profitability.
Slack plans to continue growth through the following strategies:
Enable slack usage across existing and new business networks

Grow application platform and developer ecosystem

Expand Network Effects through slack connect to ensure secure connections across external organizations.

International expansion is key to expand beyond the existing 38% of revenue

Leverage AI, machine learning, and advance search to streamline and automate workflows
- Igli
---
You can access and download the detailed report here which will include high-level financials. If you like the content please make sure to share this newsletter, share this post, or subscribe (if you have not already)!