Hi Everyone,
We will start this week's edition of Equity Breakdown by reviewing the direct listing IPO of Palantir, which is rumored to be valued between $10 - $20 Billion.
Business Summary:
Palantir builds and deploys software platforms that serve as the central operating system delivering advanced data analytics. The company was founded in 2003 (17 years) and explicitly build software to help the intelligence community in the US with counterterrorism investigations, military operations and now recently expanded to commercial enterprises.
The software platforms are vertically integrated solutions that cover the entire data lifecycle (source data to decisions made at executive levels of an organization)
The company offers two software platforms with embedded user-facing applications for customers:
1.      Palantir Gotham: Constructed for defense, intelligence agencies, and law enforcement; enables users to identify patterns across many sources of datasets. Structured (spreadsheets) and unstructured (images/video) data are collected, stored, shared, and analyzed in real-time to a central database. The information can then be visualized and analyzed into one workspace to helps U.S. and allied military personnel find what they are looking for.
2.     Palantir Foundry: Constructed for commercial use to enable organizations to interact with information by creating a central operating system for their data. Individual users can integrate and analyze the data they need in a central platform. The one-stop-shop central database breaks down barriers across cross-functional teams in an organization and resulting in dynamic decision making.
Technology Features:
Various sources of data are collected in a central operating system: Data is collected in its raw form such as cells in a spreadsheet and evolved into relationships, events, and decisions in context with customer's needs.

Software enhances existing enterprise systems instead of replacing: Organizations can integrate current software systems without having to rebuild their entire data infrastructure.

Security is built to increase collaboration: Security is always the priority. Security is built in each phase of the platform to enable the collaboration of data that requires security clearances, institutional boundaries, and varying levels of sensitivity.
The company's vision as stated in the S-1, is: "We build software platforms for large institutions whose work is essential to our way of life. Those institutions must be able to function in times of stability as well as crisis and uncertainty. To do so, they need software that works."
Industry:
Both government agencies and companies face challenges in the "Big Data" environment that has evolved. To keep up with the desire to develop strong data analytical competitive advantage government agencies and companies often experiment with single-purpose custom tools that require a significant investment in internal resources and infrastructure.  According to a report by the Standish Group, about 12% of inhouse implementation digital transformation projects are successful. In addition to the high costs of fixing legacy systems or building in house, collaboration is usually inhibited. As teams operate in silos, the custom tools fail to integrate secure integration of various data sources. Institutions with decades of experience inevitably end up anchored by decades of fragmented IT investments. With these challenges, Palantir sees the opportunity to offer a one-stop shop solution in the market.
Market Opportunity:
The total addressable market is $119B. The commercial market represents 47% of the TAM and government is about 53%. Examples of customers include (U.S. Army, Navy, Air Force, CDC, FDA, SEC, Airbus, Credit Suisse).
Business Model Landscape:
Palantir executes a subscription-based multi-year contract with customers, during which costs are generally incurred upfront and the company integrates the software platforms into the customer's data infrastructure. Palantir's business model has three phases: (1) Acquire, (2) Expand, and (3) Scale. Heavy investments are made in the acquisition and expansions phase with the majority of the profits being realized in the scale phase that requires mainly ongoing maintenance services.
YTD Palantir has 125 customers

76% of revenue is part of the scale phase and top 25% of customers by contribution margin in the Scale phase as of the end of 2019 had a contribution margin of 87%

Average revenue per customer is $5.6M and Average revenue for top twenty customers is $24.8M as of 2019

40% of revenue comes from customers in the U.S. and 60% abroad (expansion in Europe and Asia)

Top twenty customers generated 67% of total revenue that period.

Top three customers represent ~33% of total revenue in 2019
Competitive Strengths (Moats):
The company aims to work towards creating a monopoly in the software platform industry. According to the S-1 filing, Palantir has identified a series of advantages.
Software brings government-grade security to industry and the breadth of private sector experience to government

Engineering team is imbedded in customers operations (teams are placed into the front lines to understand intimately the customer's needs)

Lasting Strategic relationships (Top 20 customers have been with Palantir for an average 6.6 years)

High barrier to entry for competition due to high installation costs, high failure risks, complexity of data environments, and the long sales cycles. The larger, more complex, and more technologically demanding the problem, the more likely one creates monopolistic characteristics

Generating Network Effects: Integration of data sources and actions made by developers and operational users are accessible to all other users (provided security clearance). The rich insights that capture, process, integrate and leverage data will also add incremental value as its shared across the organization. The more users, the greater demand for insights and additional applications resulting in an organic demand for the platform. Business is built to expand within organizations and across sectors

The software is created to be used solely by the United States and its allies in Europe and around the world. According to CEO Alex Karp, "the company has chosen sides"
Competition/Risks:
The company has highlighted certain competitive and operational risks that may affect its performance.
Main competition is fundamentally with internal software development efforts of potential customers (aka internal IT departments). Organizations frequently attempt to build their own data platforms before turning to buy externally. In trying to build something on their own, they generally rely on a patchwork of custom solutions, outside consultants, IT services companies, packaged enterprise and open-source software, and significant internal IT resources.

Sales efforts involve considerable time and expense and the sales cycle usually can last between six to nine months.

Business is subject to complex and evolving U.S. and non-U.S. laws and regulations regarding privacy, data protection and security. Many of these laws and regulations are subject to change and can result in increased cost of operations.

A significant portion of the business depends on sales to the public sector, and failure to receive and maintain government contracts can lead to poor financial performance. With 47% of revenue coming from government agencies, changes in laws and administration could severely impact its revenue.

Data security from third party software developers that require to interact with Palantir's software platforms can be susceptible to security breaches

Retain, train, and hire qualified personnel and senior management, including Alexander Karp, founder and Chief Executive Officer is crucial. The sales cycle is long, and teams will interact with leaders across various functions requiring high delivery of performance.
Team:
The company's success is also dependent on its leadership. The executive team is made up of:
Alexander Karp: Co-Founder, CEO, Director who holds a B.A. from Haverford College, a J.D. from Stanford University, and a Ph.D. from Goethe University in Frankfurt, Germany ("A philosopher at heart")

Stephen Cohen: Co-Founder, President, Secretary who holds a B.S. in Computer Science from Stanford University

Shyam Sankar: Chief Operating Officer and Executive Vice President who holds a B.S. in Electrical and Computer Engineering from Cornell University and a M.S. in Management Science and Engineering from Stanford University

All three leaders total a compensation package of $53M (mainly concentrated in the company's stock)

The company will issue Class A, B, and F shares. Class B shareholders are entitled to 10 votes, while Class F shares will ensure power is concentrated in the founders' hands (Karp, Cohen, and Peter Thiel).
Financial Performance:
The company achieved $743 million in revenue for 2019, a 25% increase over the $595 million earned in 2018. More recently, the company earned $480 million in revenue in the six months ending June 30, 2020. The company is set to break even this year with $1.2B with secured contracts in 2020.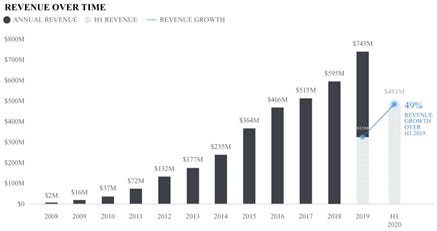 Contribution margin, a measure of our efficiency in selling and delivering the software to customers, has improved as well. The improvement highlights more efficient operational costs as the time of installing and deployment of software is drastically decreasing.

In addition to sales revenue and contribution margin, Palantir has been able to increase its ARR steadily by 43% YOY. This results in about $8M ARR per customer.

Palantir plans to continue growth through the following strategies:
Commercial Sector Expansions

Continued expansion of R&D (YTD invested $1.5B)

Increase reach within existing customer base

Become the default operating system for data across the U.S. government.

Pursue new methods of customer acquisition and partnership internationally

Continue to be embedded in policy and legislation to uphold similar litigations such as the enforcement of the Federal Acquisition Streamlining Act of 1994. The law requires the U.S. federal government to consider commercially available software before attempting to start custom-development projects on its own. (Resulted in revenue expansion from the U.S. Army; $51.9M to $134.5M)

Continue to grow direct sales force
- Igli
You can access and download the detailed report here which will include high-level financials. If you like the content please make sure to share this newsletter, share this post, or subscribe (if you have not already)!