Hi Everyone,
Massive disruptions in the healthcare industry are evolving post-pandemic crisis. With rising costs, and a complex relationship between patients, physicians, and insurance companies, technology solutions will shake up the industry. The U.S. will grow to $6.2 trillion in healthcare spending by 2028. The demand to transform the current inefficiencies in the value chain and offer low costs are high. Today, we will break down Multiplan (MPLN), a company that has been around since the 1980s that merged Churchill Capital Corp II SPAC to tackle the healthcare problems at a staggering valuation of $11.1 billion.

Business Summary:
Multiplan is a data-analytics driven technology company that processes medical claims data to provide cost management solutions. Consumers (patients) receive care from providers (physicians) who then file claims with a payor (health insurance company). Multiplan aggregates the data through their platform focusing on claim settlement, pricing, and accuracy with the goal of reducing the cost of the claim for the payor (health insurance company) before a provider (physician/hospital) is paid. The company strives to reduce costs downstream in the healthcare value process by offering three solutions:
Analytics Based Services: Reduce medical costs by detecting claims irregularities for payors via data-driven algorithms

Network-Based Services: Reduce medical costs through contracted discounts. Also, Multiplan is one of the largest independent providers in the U.S.

Payment-Integrity Services: Reduce medical costs by removing unnecessary or wrong charges before claims are processed and paid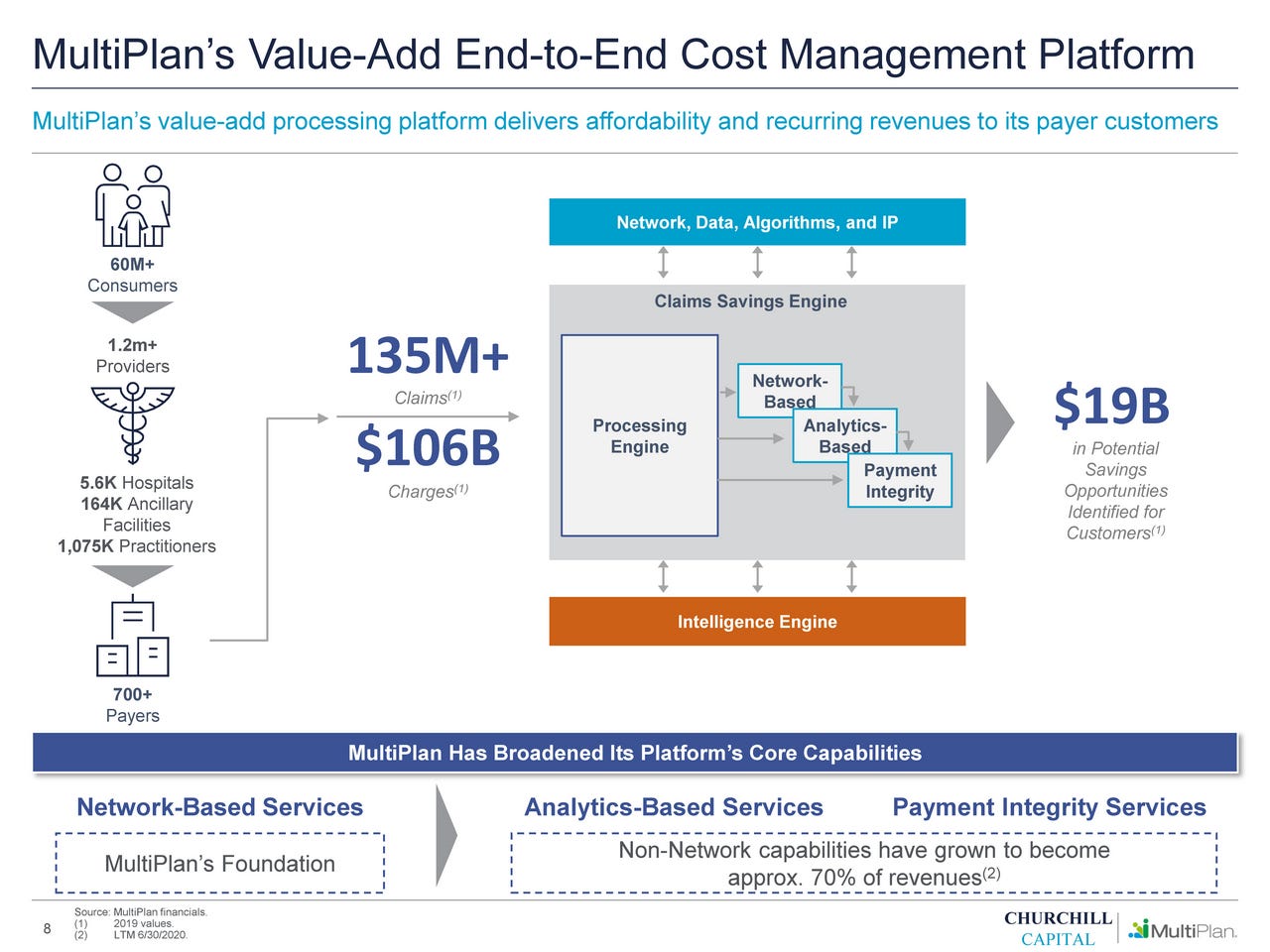 Technology Features: Multiplan's platform leverages data and analytics to transform healthcare transactions into savings.
The transaction processing system (claims processing system) is the engine that drives savings for customers and revenue for the company. Each transaction adds more data to the engine and data warehouse

The company can process transactions through electronic data interchange batch files, web services and online through customers and provide portals. Integration into the customer's systems and claims processed as EDIs result in efficient connected processes. 98% of claims are processed through EDI
The company's mission as stated in the SEC filings, is: "deliver affordability, fairness, and efficiency for healthcare payers, their consumers and the medical providers that treat them."
Industry:
Rising costs are an unfortunate reality for the healthcare system in the US. The total estimated spending in the U.S. healthcare market is $4 trillion and expected to grow to $6.2 trillion by 2028. This growth is driven by an increase in aging population, new medical technologies, and current inefficiencies in the value chain process. Payors want to focus on solutions that create efficient methods to reduce costs. Specific to Multiplan's business the following industry trends are present:
Increasing costs per claim due to medical inflation

Unclear pricing driven by complex rules

Negative effects of legacy technologies
Market Opportunity:
The total addressable market across the healthcare customer management solutions space is identified by Multiplan to be around $50 billion across payors, providers, and consumers. Today they stand as a leader in the "Payor Out-of-Network" segment with a TAM of around $8 billion. The market opportunity is broken out between the following segments:
Group Health: Cost of healthcare to employers

Government Programs: Medicare and Medicaid are expected to grow increasing costs

Workers' Compensation: Settlement costs and medical costs of insured workers are also growing

Auto Medical: 79% of claimed loss were due to medical expenses. These costs will continue to grow as well
Business Model Landscape:
Multiplan's revenue is dependent on the ability to lower medical costs through savings for payors. The medical charges are a key driver in generating earnings. The company is compensated by payors through a percentage of savings ("PSAV") and a per employee/member per month ("PEPM"). Below we have the business model and the various revenue segments broken down:  

The following customer landscape is created based on the revenue models Multiplan has created:
700+ payers including the top 10 insurers

Blue Cross Blue Shield, United Healthcare, Cigna, Anthem, Aetna, Humana, Centene etc.

Top 10 customers have been customer for 25 years

Contracts with large customers have 2-5-year terms

Mid-to small-sized customers have annual terms on contracts

Top 2 customers accounted for 35% and 20% of the company's full-year 2019 revenues

Network includes 5,600 hospitals (91%),164,000 ancillary facilities, 1.1M practitioners.

Multiplan logos are on 60M member ID cards
Competitive Strengths (Moats):
The company aims to make healthcare affordable. According to the SEC filings, Multiplan has identified a series of advantages.
Platform: The company believes their proprietary IT platform provides an advantage allowing them to process and store significantly more transactions. The proprietary network pricing application can return 99.96% of network claims to payors within one business day. The platform accesses historical claims data for 1 billion claims and processes 370k claims per day.

Customer relationships: Top 10 customers have been customers for an average of 25 years. Customers are retained based on the EDI claims which are linked to customer's time-sensitive claims processing functions. This creates a high switching cost

Experienced Management Team: CEO, CFO, and CRO have 100+ years of combined experience in healthcare cost management industry. Strong track record in growing profit, acquiring, integrating, and managing healthcare businesses. In addition, with the (CCXX) SPAC merger, the company will experience a management team led by Michael Klein, a well-known investor, and operator

Comprehensive Services: The company employs 450 negotiators, 100 clinicians, medical coders, 600 IT, and 500 operations staff focused on medical reimbursement analysis. The extensive resources allow Multiplan to offer the three solutions in analytics, network, and payment integrity services
Competition/Risks:
The company has highlighted certain competitive and operational risks that may affect its performance.
Competition: Multiplan's competitors will depend on the services they offer:

Analytics Service: Zelis, Advanced Medical Pricing Solutions, ELAP Services are key players in offering negotiation and pricing services to save costs

Network Service: Direct competition with PPO providers (regional), First Health, and Zelis regarding network discounts, access, quality, independence, and price

Payment-Integrity Service: Cotiviti, Change Healthcare, Optum, and Discovery Health Partners also are key players. They originated as post-payment specialists while Multiplan focused on examining claims before payment occurs

Customer Risk: The top two customers account for a total of 55% of revenue in 2019. The contracts with these two customers are also terminable without a case on short notice. If termination, reduction of service, or price negotiations with less favorable terms occur then Multiplan will experience a significant loss in performance

Multiplan Depends on Providers: Healthcare providers are an integral part of the process that helps generate the claims process. The more providers in the network the more valuable they become to payors. Contracts with providers have renewed annually and negotiations regarding the number of price concessions are critical since a portion drives the company's revenues

PPO Networks Decrease in Discounts: As an independent preferred provider organization, Multiplan could experience a reduction in discounts from providers. This can make Multiplan's network less attractive

Changes in the Healthcare Industry: Multiplan's businesses are heavily dependent on creating contracts with payors (insurance companies) and providers (physicians/hospitals). With technology aiming to change healthcare empowering payors to directly deal with providers regarding pricing more efficiently can severely impact Multiplan's business. Risks such as a single-payer healthcare system, government regulations specifically "surprise" billing, and regulation of the PPO market will certainly impact business

Multiplan's Significant Debt: Multiplan Parent has debt amounting to $5.4 billion. $1.1 billion is from a subsidiary Polaris Intermediate Corp and is expected to be paid with the CCXX transaction. $4.2 billion comes from MPH holdings another subsidiary. This creates a risk that the company's cash flow may not be able to cover the debt and fulfill other financial obligations
Team:
The company's founders and executive team are veterans in the healthcare cost management space with the addition of the CCXX team post-merger:
Mark Tabak, Chief Executive Officer: Tabak has served as CEO of Multiplan Parent since 2002 and prior to that held executive roles at Healthcare Capital Partners and International Management Care Advisors which is now part of AIG

Dale White, President, Payor Markets: Served as Chief Revenue officer prior to merger with CCXX and has been with the company since 2004

Michael Klein, Director of Board and CEO of (CCXX):Klein has experience in operating companies, changing strategies, acquiring and integrating companies, and recruiting world talent. He is the founder of his global strategic advisory firm and has two decades of experience at Citi. 

Paul Galant will join as President, New Markets: Paul Galant currently serves as an Operating Partner at Churchill Capital and prior to that CEO of many companies like Brightstar.

Ownership of the Company is constructed as follows:

Financial Performance:
The company post-merger with CCXX will have an Enterprise Value of $11.1 billion.
The company has achieved $982.9 million in revenue for the year 2019, a (-5.6%) decrease over the $1,040 million earned in 2018. More recently the company earned $458 million in six months ended 06/30/20 resulting in a (-6.5%) YOY from $491 million. The decrease in revenue was due to Covid-19 because of the reduced volume of claims from restrictions on elective and non-essential medical procedures in 2020. The annual decline from 2018 to 2019 was driven by customers changing their claim practices regarding the analytical service and two payors losing their government contract.
As of 12/31/2019, and 2018, the company's net incomes were $9.7 million and $36.2 million. Gross Margins for the business as of 12/31/2019 were around ~81.8%. The drastic decline is due to revenue loss from the analytics services and network services.
The company has also generated AEBITDA of $750 million in 2019, a (-8.9%) decrease from 2018. More recently they have also maintained a 75.3% AEBITDA reflecting a proxy for a healthy cash flow business as of 06/30/20.
The company provides the following forecasts:
Revenue - 2025E: $1.3 - $1.9B (11-15% growth rate)

Adj EBITDA – 2025E: $1.1 - 1.4B (72-77% margin)

Current Debt – 2020E: $5.4B (6.7x AEBITDA)

Firm Value / Adj EBITDA – 2021E: 12.9x / 2025E: 24.3x
Multiplan plans to continue growth through the following strategies:
Enhance existing platform: Further, deploy artificial intelligence and machine learning

Extending platform: Build for new customer segments in government, property & casualty, and dental

Expand platform: New business models that automate administrative services, transparency of patient medical bills, patient interfaces with payor and provider
-Igli
---
You can access and download the detailed report here which will include the summary and a company info-graphic summary. If you like the content please make sure to share this newsletter, share this post, or subscribe (if you have not already)!