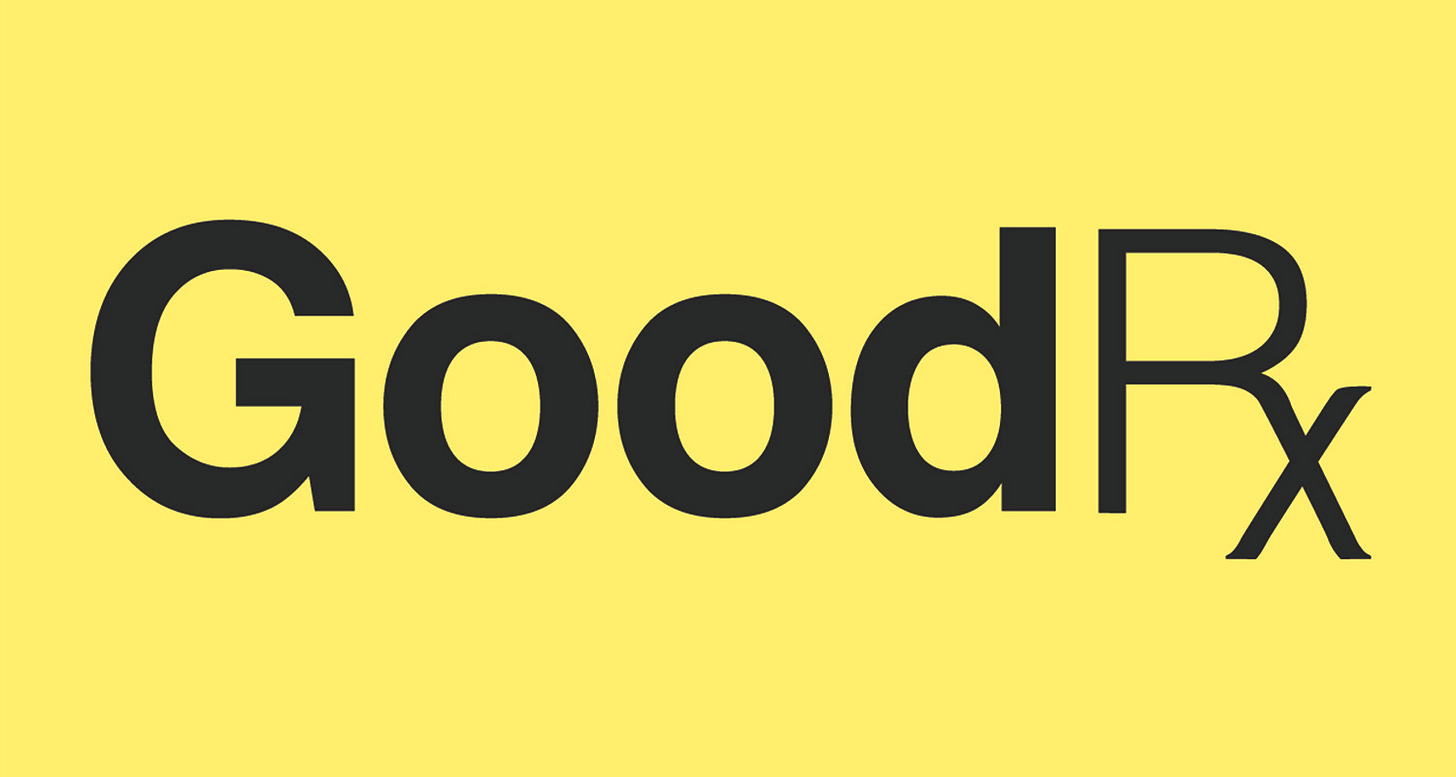 Hi Everyone,
Healthcare costs are out of control in the US. Consumers are bearing the majority of the cost of care and are experiencing restrictions from a fragmented industry. This rising challenge has created an opportunity for a company to revolutionize the industry with a consumer focused digital healthcare platform. Today we will breakdown GoodRx (GDRX), the company with the goal to "make healthcare services affordable".
Business Summary:
GoodRx is a healthcare tech company that aims to offer affordable healthcare service to American consumers. Their software platform offers pricing discounts for medications, telehealth services (HeyDoctor), and health education services. The company has created a healthcare ecosystem that connects consumers, healthcare providers, pharmacies, pharmaceutical manufactures, and pharmacy benefit managers. GoodRx wants to reduce healthcare costs for the American consumer, drive faster treatment, better patient care and outcomes, and provide healthcare consumer education. Medical adherence, accessibility, low costs, and consumer satisfaction are the desirable outcomes that GoodRx seeks from using its platform.
The company breaks down its value proposition across three targets:
Consumers: Allow people to fill prescriptions and access treatments through telehealth. The price comparisons and negotiated prices have contributed to $20 billion of savings to date.

Healthcare Professionals: Engagement between physicians and consumers through telehealth services have improved interaction.

Healthcare Companies: Empower Pharmacy Benefit Manages to offer discounted prices to consumers and grow their cash network. The company has created a direct to consumer channel to reduce costs drastically.
Technology Features: The platform is offered through a website and application that can be accessed across many devices. The foundation is built on the following features:
Propriety Pricing Engine: Price technology that links with multiple sources across the industry and patent technology that offers collection and normalization of prices to PBMs as a single consumer interface. 150 billion prescription prices are aggregated every day.

Living Database: The platform has processed $8 billion gross merchandise value and offers valuable insights to improve the consumer experience.

Proprietary Telehealth HER: HeyDoctor is supported by unique electronic health record to allow physicians to conduct online patient visits with build-in messaging and video capabilities. This also sends electronic prescriptions and pricing and is easily accessible to healthcare workers.
The company's mission as stated in the S-1, is: "Help Americans get the healthcare they need at a price they can afford"
Industry:
Healthcare consumers are facing an enormous amount of challenges in the U.S. due to rising costs and restrictions imposed on their care. The total estimated spending in the U.S. healthcare market is $4 trillion and expected to grow to $6.2 trillion by 2028. Despite the having best health-care technology and services in the world, the market is fragmented leading to a difficult experience for American consumers. The industry currently experiences the following challenges:
Consumer-Facing Solutions: Technology driven platforms that create ease for consumers and consolidate information in one source

High Costs: Healthcare costs contribute to 66% of all personal bankruptcies in the US. 30% of prescriptions are not being filled and 64% of Americans risked their health due high costs

Transparency: Complexity, fragmentation, and limited ability to compare healthcare prices are common. 70% of Americans do not know that prices of prescriptions can vary widely between pharmacies

Access to Care: The average wait time for a new patient visit in the 15 large cities was 24 days in 2017. Basic needs are not addressed quickly leading to higher costs
Market Opportunity:
The total addressable market across the healthcare services identified by GoodRx is around $800 billion.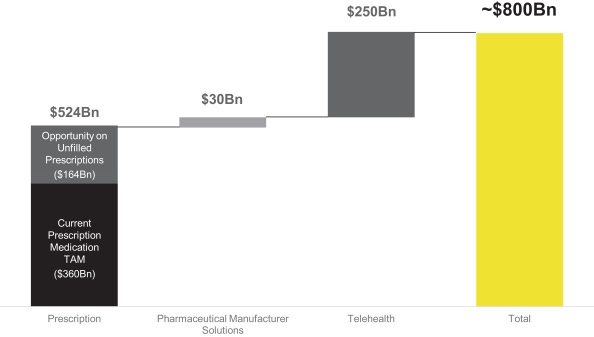 Business Model Landscape:
Revenue is generated by the prescription offerings, subscription offerings, pharmaceutical offerings, and telehealth offerings that GoodRx offers to allow consumers to save money. The company deploys a direct-to-consumer business model.
Prescription offering: The company allows consumers to compare prescription pricing and show negotiated prices that are available. GoodRx is then paid a fee from pharmacy benefit managers when the code is used. The fee can be fixed, or a percentage of fees earned by the partners. This made up 94% of the revenue in 2019 and 91% in 2020

Subscription offering: Company launched Gold and Kroger Savings for a monthly subscription to access deeper discounts. The company receives the fee from subscribers with Kroger share the fee

Pharmaceutical offering: 20% of consumers search for branded medication and as a result partnering with the manufacturers opens consumer savings. Manufacturers pay a fee to advertise, integrate and communicate solutions on the platform

Telehealth offering: The company offers their own telehealth provider (HeyDoctor) and a telehealth marketplace. Revenue is derived from visit fees on HeyDoctor and fees for directing consumers to third-party telehealth providers in the marketplace
The following customer landscape is created based on the revenue models GoodRx has created:
15 million monthly visitors in Q2 2020 visited the app and websites.

Monthly average consumers 4.4 million from 0.7 million in 2016.

A monthly average consumer is a unique consumer who has used GoodRx code to purchase a prescription at a discount from the list price in a month.

80% of transactions for the prescription offering have come from repeat activity

GoodRx codes are accepted in over 70,000 pharmacies (79% of total pharmacies)

1,000 consumers per day completed online visits on HeyDoctor in Q2 2020.

Healthcare net promoter score that identifies customer satisfaction was 90 out of 100.

The GoodRx app has 700,000 rating reviews with a 4.8/5.0 score.

The company has entered a partnership with Kroger to provide discounts and allow retailers to increase store traffic.
Competitive Strengths (Moats):
The company aims to make healthcare affordable. According to the S-1 filing, GoodRx has identified a series of advantages.
Platform: 150 billion prices are aggregated daily resulting in an aggregate discount of 71% for consumers on medication costs

Brand: 68% of healthcare providers recommended the platform to patients and the platform received a high NPS score highlighting strong consumer satisfaction. The brand is associated with transparency and trust

Scalable Network: The companies gross merchandise value was $2.5 billion in 2019. This result is due to an extended network of PBMs, pharmacies, and pharmaceutical manufactures

Consumer-Facing: The platform represents a one-stop-shop for consumers to interact with their healthcare services. It is designed to deliver a consumer-first experience that is easy to use. Inherently consumer information is saved across the network, so the codes apply instantly for all future refills

Extension Services: High engaged consumers provide room for the platform to offer additional services such as telehealth. The additional services will increase customer lifetime value and reduce additional customer acquisition costs
Competition/Risks:
The company has highlighted certain competitive and operational risks that may affect its performance.
Competition: Primary barrier to adoption is awareness. Consumers are not aware prices vary widely between pharmacies. They are also not aware of direct-to-consumer telehealth options. In prescriptions the competition is fragmented and are smaller. In telehealth the largest competitors are Teladoc, Amwell, MDLive, and Doctor on Demand.

Revenue Risk: A significant portion of revenue is driven by prescription offerings. Majority of this revenue was driven at brick and mortar pharmacies. Diversification is key as any changes to the behavior of consumers can impact.

Pricing is dependent on Industry Participants: The company does not impact price negotiations. As a result, changes in pricing structures from manufacturers, healthcare insurance companies, and PBMs will impact available discounts.

Lack of control for categories and prescriptions: PBMs determine discounts on certain medications based on negotiations with manufacturers and insurance companies. Changes in types of medications and categories can impact consumer satisfaction.

Limited Number of Industry Participants: The industry is concentrated in terms of national pharmacy chains, and PBMs. Favorable contract agreements are necessary because revenue is dependent on PBMs participation. Three of the largest PBMs accounted for 48% of the revenue in the first half of 2020.

Government Regulation: Heavy regulation such as the Patient Protection and Affordable Care Act will come under revision with additional regulation as the government focuses on the prices of medications. This can impact the partners involved in the current value chain.
Team:
The company's founders and executive team are veterans in the healthcare tech space:
Douglas Hirsch, Co-CEO and Founder:  Hirsch served as CEO at DailyStrength, a social network focused on health and wellness. He was also an early employee at Yahoo!.
Trevor Bezdek, Co-CEO and Founder: Bezdek served as managing partner at a technology firm and co-founded Biowire, building information tools for researchers.

Bansi Nagji, President, Healthcare: Served five years as Executive Vice President and Chief Strategy at Mckesson Corporation, leader in healthcare supply chain management.
Financial Performance:
The company has 384 million outstanding shares at a price of $52.04 resulting in a market cap of $19.9 billion.
The company has achieved $388 million in revenue for year 2019, a 56% increase over the $250 million earned in 2018. More recently the company earned $257million in six months ended 06/30/20 resulting in a 48% YOY.
Since 2016 the company has experienced CAGR of 57%, and it has profitability. As of 12/31/2019, and 2018, the company's net incomes were $66 million and $55 million. Gross Margins for the business as of 12/31/2019 were around ~96.4%.

The company has also generated operating earnings of $160 million in 2019, a 41.1% increase from 2018. More recently they have also maintained a 39.4% AEBITDA representing strong earnings and translating to a $76 million free cash flow business as of 06/30/2020.
GoodRx plans to continue growth through the following strategies:
Expand of HeyDoctor Telehealth and the Telehealth Marketplace

Expand Subscription services: Partner with pharmacy chains and retailers like Kroger to introduce savings

Healthcare Education content creation: Expand brand trust by being a leader in healthcare information, education, and updates.

Expansion of Platform services: Clinical trials, prescription delivery and in-house doctor visits.
- Igli
---
You can access and download the detailed report here which will include high-level financials. If you like the content please make sure to share this newsletter, share this post, or subscribe (if you have not already)!