Hi Everyone,
The modern internet requires fast, secure, and personalized data experience. What would be the cost of two to five seconds of latency when booking the next flight (maybe in 2021)? Today we will breakdown Fastly (FSLY), a company with the goal to empower developers to build a better internet.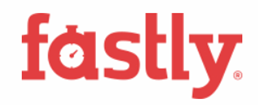 Business Summary:
Fastly is a content delivery network that makes content transmission faster. The company ensures that digital experiences are fast, secure, and personalized. Today almost everyone is using websites or apps to conduct some form of digital transaction. By definition, the experience must be seamless and secure. As a result, Fastly empowers developers by delivering the edge cloud platform. The company classifies the edge cloud platform as a new category that converges the traditional functionality of content delivery networks with edge computing to move computing power closer to the end-user. Why is this important? As the internet evolves, individuals like you and me have higher demands when it comes to user experience. We want our web pages to load faster, updates to be timely, and no latency when it comes to viewing our videos. Fastly solves all of these demands by moving data and applications to the network edge, (as close to the users as possible).  It's simple, Fastly gives developers the ability to make changes instantly so users can consume content more quickly. The platform contains the following features:
1.       Programmable Edge: Developers have real-time control and visibility to changes they program. They simply deploy the code to the edge. With the launch of Compute@Edge, developers can build advance edge applications with more security, logic, and better performance levels.
2.       Software-Defined Modern Network: The company has an 88 terabit software-centric network located in 72 unique designed points of presence ("POPs") across 55 markets around the world. This empowers scalability.
3.       Customer Empowerment: Developers are given frictionless tools and strong technical support immediately. This frees up constraints so developers can focus on innovation.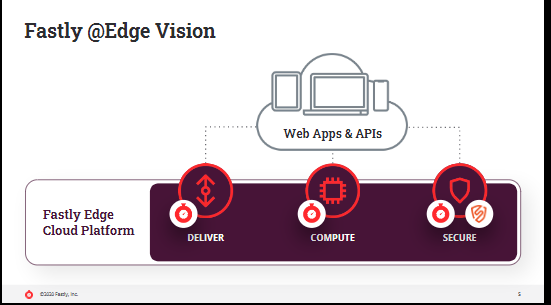 Technology Features: The edge cloud platform is globally distributed, and programmable for high performing and secure web and application delivery. The single, software-centric network offers the following capabilities:
Edge Compute: Developers can create their own programmable logic

Edge Delivery: Full site delivery and streaming for media. The service ensures speed and quality

Edge Security: Functionality involving Distributed Denial of Serice, Web Application Firewalls, Application Delivery Controllers, and Bot Detection

Edge Application: Effective load balancer and image optimizer

The company's vision as stated in their website is: "create a trustworthy internet, where good thrives."      
Industry:
Organizations need to keep up with the most recent and complex end-user engagements. As a result, the digital experience must be reliable. As customers evolve in their digital transformation process it becomes crucial that they need the infrastructure to deliver performance. Latency, security and developer customization are the new trends emerging in the industry. Customers today need to be able to manage traffic across multiple Infrastructure as a service providers, data centers, and hybrid clouds. The modern internet has the following new requirements in the industry:
Digital Transformation

Application Built and Customizable

Network Architecture

Operational Efficiency
Market Opportunity:
The total addressable market for edge computing, content delivery, streaming, cloud security, and application delivery is estimated at $23.1 billion. The market is expected to grow to $35.4 billion in three years estimating a CAGR of 15%.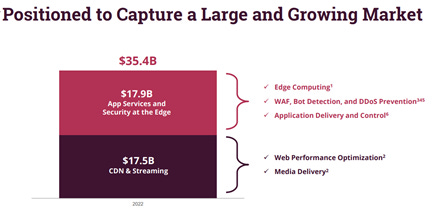 Business Model Landscape:
Fastly, derives its revenue primarily from user-based fees as customers use the platform. The company charges customers based on their usage. The customer agrees to a minimum requirement of gigabytes to use and usually generate billings that exceeds that amount. In the usage-tier based business model, customers are also provided discounts based on their use of the data. The company also generates a portion of its revenue through implementation services and recurring technical service. The services are usually a flat-fee to the customer.
The following customer landscape is created based on the revenue model Fastly has created:
1,951 total customers from 1,627 in 2019

304 enterprise customers as of Q2 2020.

The customers represent 88% of the revenue

Average spend per customer $716K

Contracts for customers are usually a year and include a minimum monthly billing commitment

Dollar based net retention rate of customers: 138%

Net retention rate: 137.8%

Example of Customers that use Fastly: (Microsoft, Google, Shopify, Slack, The New York Times, Github, Vimeo, Stripe, etc)

Partner Ecosystem allows companies to build edge applications that integrate with Fastly's platform:

Logging and Analytics Companies: Google, Microsoft, Datadog, Sumo Logic

Pass Partners ensuring scale and security: Heroku, Magento, Drupal and Wordpress
Competitive Strengths (Moats):
The company aims to build a better internet with the developers at the center. According to the S-1 filing, Fastly has identified a series of advantages.
Ease of Integration and Programmability: Developers can write and deploy their own custom code. The platform has reusable modules that don't require developer experience, real-time visibility and control using log data to troubleshoot, and the ability for developers to build Fastly in their technology stack to enhance integration and deployment.

Platform Scalability and Performance: The use of a proprietary software-defined networking stack with storage system, massive data pipeline to send logs, a cache system to purge content around the world, and a proprietary control panel that allows developers to configure and update applications.

Ability to support modern Application Processes: Serverless security designed to deploy custom applications without interfering with performance. This ensures security is integrated in the architecture, programming, and operations phases.

Image Optimization & Video Streaming: Instant purging of content giving customers the ability to simply load content faster.

Credibility with Developers: the company has a phrase stating that the platform was built by developers for developers. A flexible support model and a partner-friendly model empower developers to focus on innovation.
Competition/Risks:
The company has highlighted certain competitive and operational risks that may affect its performance.
Competition: There are other established content delivery network companies that have had the luxury of time.

Legacy CDN: Akami, EdgeCast

Small Business Focused CDNs: InStart, Cloudflare

Cloud Providers: Amazon's cloudfront, AWS Lambda, Google Cloud Platform

Data Center and Appliance Vendors: F5, Citrix, Cisco

Limited Customers generating substantial revenue: In 2019, top 10 customers accounted for 29% of revenue. Dependence on the customers will continue and a loss of any of the major customers will affect performance drastically.

Transmission Bandwidth and Colocation Space risking disruption: The bandwidth provided by third-party telecommunications network and access to facilities to house servers can create problems. Service outages, payment disputes, network providers going out of business, and the monopolistic nature of network providers can create significant pressures.       

Security Risks: Transmission of customer's data is natural in the business Fastly provides. As a result, security is integral to the company's brand and core offering. Cyber-attacks are increasing annually and the proper measure to mitigate are essential to the trust that the company has built with customers.

Government Regulation: The ability for consumers and customers to access the internet is key. TikTok represents 12% of Fastly's revenue and when it was in risk of being banned it created significant risk. Heavy regulation based on the specific customer can certainly result in negative performance. Additionally, 29% of revenue was driven by international customers which in part represents a risk if regulation is implemented due to national security risks.
Team:
The company was founded in 2011 by developers for developers. The team is well equipped for the cloud edge space:
Joshua Bixby, CEO:  Mr. Bixby has been an executive in Fastly since 2015. Prior he served as VP of Acceleration at Radware, a cybersecurity and application delivery solutions company. He was also the founder of Strangeloops networks.
Artur Bergman, Co-Founder and Chief Architect: Prior, Mr. Bergman served as manager, vice president, and CTO of Wikia, a global community knowledge-sharing platform.
Tyler Mcmullen, CTO: He is responsible for evolving the system architecture and the company's technology vision. He built the first version Fastly's instant purging system, API, and real-time analytics.
Financial Performance:
The company has market share price of $126.55 resulting in a market cap of $11.8 billion and Enterprise Value of $11.5 billion.
The company has achieved $200.4 million in revenue for the year 2019, a 39% increase over the $144.6 million earned in 2018. More recently the company earned $137.6 million in six months ended 06/30/2020 resulting in a 50% YoY.
The company has yet to make profits. As of 2019 and 2018 net losses were $51.5 million and $30.9 million. Gross Margins for the business for 2019 were around ~56%.
Additionally, the net dollar retention rate for customers is 137.8% and annual revenue retention rate was 99.3%. The company has experienced an ARR of 44% in 2019. It will continue to focus on strong top-line growth to achieve a path towards profitability.
The following valuation ratios are below:
Firm Value / Revenue: 2019A: 58.8x  | 2020E: 41.0x
Fastly plans to continue growth through the following strategies:
Land and Expand: Vertical expansion into enterprise customers

Platform Expansion: Continue innovation with a focus on solutions for vertical expansion (security, Comput@Edge)

Leverage Partners: Expand technology ecosystem with partners like Google, Microsoft, Amazon

International Expansion: Current revenue share outside of the US is around ~29% and room for growth.
-Igli
---
You can access and download the detailed report here which will include the summary and a company info-graphic. If you like the content please make sure to share this newsletter, share this post, or subscribe (if you have not already)!