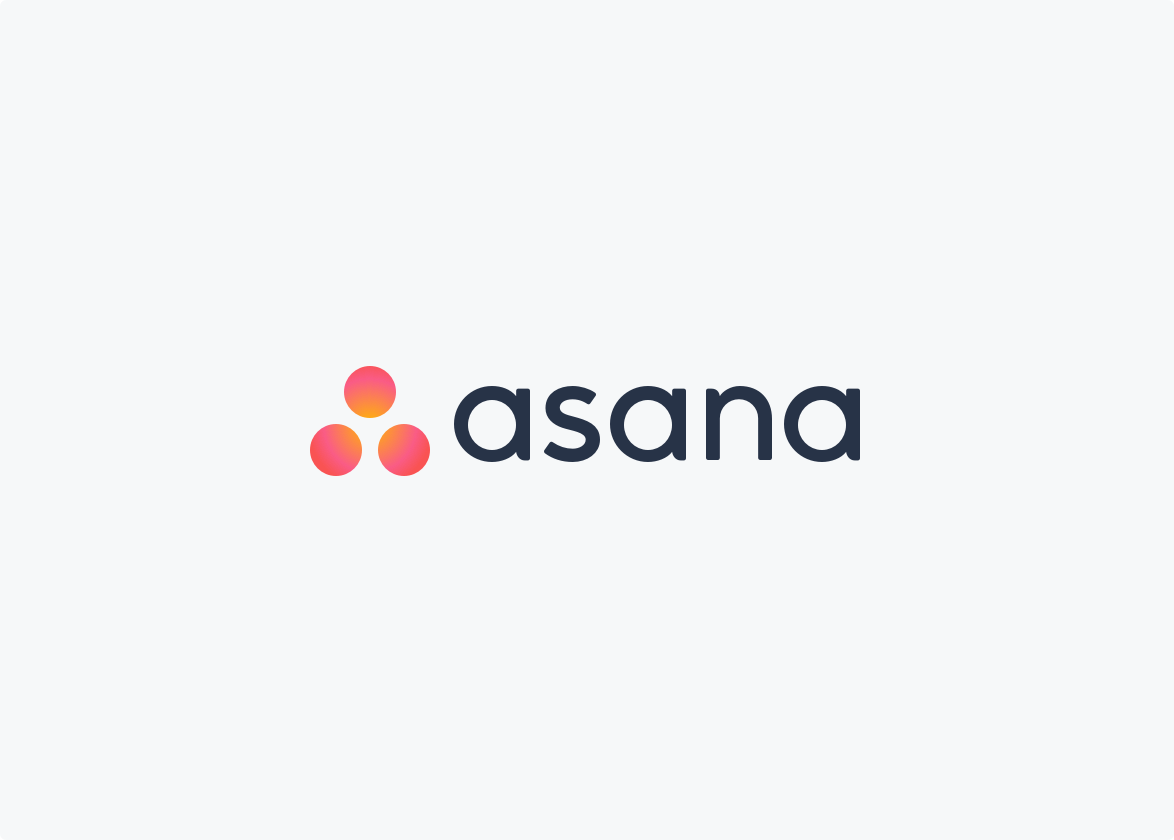 Hi Everyone,
We continue the software trend and decided to breakdown the one and only Asana (ASAN). This company aims to revolutionize working together effortlessly. Its valuation can range somewhere between $1.7 - $4.2 billion.
Business Summary:
Asana is a software-as-a-service platform that is designed to improve and manage team collaboration and work management. The goal behind the work management platform is to allow teams to manage any task/project/portfolio and understand exactly who is doing what. Teams can create projects, assign work to colleagues, set deadlines, share tasks, and assign goals measuring key performance indicators.
While at Facebook, the co-founders saw that coordination challenges persisted as the company scaled. A significant amount of time was being spent in inefficient meetings and long communication threads. This frustration was universal creating an opportunity for the founders to solve problems.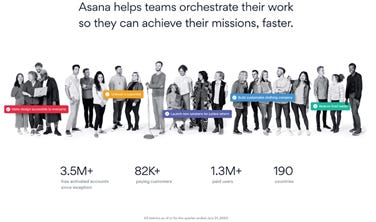 The platform is built on three pillars:
Clarity: structure to what needs to be done

Transparency: all stages of work are visible to understand progress and completion

Accountability: Ambiguity over responsibilities and goals is removed
Technology Features: The platform is built on top of Amazon Web Service and the proprietary data model is called the work graph. The work graph offers users an experience that is customized and easy to navigate. It encompasses the following features:
Units of Work – (Tasks, Projects, Portfolios, goals)

Identifies people responsible for the units of work

Outlines the process of completing the work through templates and rules

Allows access to information (files, attachments) to be associated with the work

Ability to map a web of relationships in the data
The model is intended to provide all layers of an organization's team dynamic views into the work all based on the same data in the work graph.
The company's vision as stated in the S-1, is: "Our mission is to help humanity thrive by enabling the world's teams to work together effortlessly."
Industry:
The modern working environment demands faster responding to the ever-changing market demands. People are facing an overwhelming volume of communications from email, a messaging application, and status meetings. 60% of knowledge workers' time is spent on work about work.
The founders of Asana realized that employee engagement is crucial to delivering better customer engagement, higher productivity, better retention, and higher profitability. The founders understood the evolution of the following trends brewing in the industry:
New purpose build solutions for work management that provide transparency, clarity, and accountability

Spreadsheet and email lack the capability to plan, manage, and orchestrate at scale

Legacy project management tools are difficult to adopt across all skill levels of the workforce

Vertical software platforms focus on certain functions of work creating information silos and fragmented sharing of data
Market Opportunity:
The total addressable market for collaborative, project, and portfolio management is $23B. It is expected to grow to $32B with a potential 39% growth by 2023.
The company believes they are <3% penetrated among the addressable employees in their existing customer base within significant room for growth. In totality, the company believes they can address the 1.25 billion global information workers.
Business Model Landscape:
Asana implements a hybrid self-service and direct sales model to efficiently reach teams and then expand the platform within the organization (similar strategy to Slack). Asana can penetrate the market by providing a free version and a feature where customers can invite guests. This allows then the company to transition the customers to a paid subscription composed of three levels.  
Premium, Business, and Enterprise

Business and Enterprise level customers subscribe mainly to the annual plans

Subscriptions have grown to represent 46% of revenue for the six months ended July 31, 2019
The simple subscription model has resulted in the following customer landscape and performance.
Dollar-based net retention rate for organization spending >$5K was 125% consisting of 7,933 customers

Dollar-based net retention rate for organization spending >$50K was 140% consisting of 283 customers

Since inception the company has had 27M registered users

As of July 31, 2020, they had 1.3M paid users

Free-to-paid conversion rate (paid users/total number of registered users) increased from 3.6% to 4.7% as of July 31, 2020

Serve 82,000 paying customers

It is important to note a customer is defined as a distinct account (team/company/education/government institution). A single organization can account for multiple customers

No single customer was greater than 1% of revenue and top 100 customers represented 10% of revenue

Examples of customers: Autodesk, Whale and Dolphin Conservation, SiteMinder, G2, Fireclay Tile
Competitive Strengths (Moats):
The company aims to dominate the work management space. According to the S-1 filing, Asana has identified a series of advantages.
Team Culture: The company has seen an industry-leading retention rate of 90% due to the commitment of transparency, distributed responsibility, and employee growth. The company created high employee engagement, living up to the platform they are providing

Multi-Dimensional Data Model: Users across the organization realize different benefits based on their role and can work the way they want

Adaptability to virtually any use case: Customers need to evolve for single specific use and extend the platform to additional cases and departments to increase collaboration on cross-functional projects. Strong adoption is used in the employee onboarding, goal setting, and meeting agendas processes for an organization

Customer Experience: Through Asana Together programs, online forums, Asana Certified Pros, the company creates a vibrant ecosystem that provides efficient customer feedback and solutions. The sense of community has resulted in great feedback

Hybrid Go-To-Market Model: The majority of the customers use self-service and free trials to interact with the platform. This builds repertoire resulting in the direct sales team to effectively convert free customers into paying customers

High-Performance model: User data is maintained in the cloud-native platform and changes are immediate with real-time collaboration. Architecture has propriety intellectual property that enables flexible and fast queries

Easy to adopt for the team: The platform has an intuitive interface that allows users with any skill level to easily set up and navigate personal projects
Competition/Risks:
The company has highlighted certain competitive and operational risks that may affect its performance.
Competitive Market: There is a low barrier of entry in the market. Competition falls into three categories:

Work Management Solutions (Smartsheet Inc)

Productivity Suites (Microsoft, Google)

Vertical Solutions (Atlassian Corporation)

Key Organization Leaders: CEO and Chair, Dustin Moskovitz is an essential ingredient in the organization and needs to be retained

Free Trial Conversion Rate and expansion of usage within an organization: The company believes that besides its hybrid go-to-market strategy, word of mouth and non-paid customer referrals have increased a strong majority of the brand recognition. The subscription-based model is dependent on customers' financial constraints and their personal experience. Expansion and service need to remain consistent across all levels of economic conditions

Revenue is driven by a single solution: The company intends to drive the solution from a single platform and depends on the demand for work management solutions in the market

Technical Operations Infrastructure: The company offers fast, reliable, and dynamic services with the platform and experiences in service outage, and delays in deployment can harm customer experience and operations. The company is heavily dependent on Amazon Web Services which provides the cloud computing infrastructure
Team:
The company's founders and executive team are veterans in the Tech realm
Dustin Moskovitz, Co-Founder, CEO: Prior to Asana, Mr. Moskovitz co-founded Facebook, Inc serving as CTO and VP of Engineering

Chris Farinacci, COO: Prior to joining Asana, Mr. Farinacci served as Senior Director of Marketing for Google for Work and Google for Education, Alphabet. He also served as Chief Marketing Officer at Hara Software, Inc., an environmental and energy management software company

Eleanor Lacy, GC and Corporate Strategy: Prior to joining Asana, from November 2016 to July 2019, Ms. Lacey was with Sophos, Inc., a security software, and hardware company, most recently serving as Executive Vice President and Chief Legal Officer

The company has a dual-class structure of the common stock which has the effect of concentrating voting control. The team will hold an aggregate 67.8% voting power of the capital stock. The company has 16.8M Class A common stock and 134M Class B stock outstanding
Financial Performance:
The company achieved $143 million in revenue for fiscal year ending 01/31/2020, an 86% increase over the $77 million earned in 2019. More recently the company earned $100 million in six months ended July 31, 2020, resulting in a 63% YOY.
While the company is showing strong momentum in growth, they have yet to become profitable. January 31, 2019 and 2020, net loss was $51 million and $119 million. In contrast, Gross Margins of ~86% show promising outlook of future profitability as sales continue to accelerate.
In addition to the performance highlighted above, Asana has shown excellent levels of customer retention. The overall dollar-based net retention rate as of July 31, 2020 was over 115%. Customers are finding incremental value in ease of use of the platform.
Similarly, Asana has been able to increase its ARR steadily by 78% in 2019 and more recently 20% YOY. This results in about $0.003M ARR per customer.

The company plans to go public through a direct listing and based on the private transactions the price ranged from $13 – $28 per share. This gives the company a valuation ranging from $1.7B to $4.2B.
Asana plans to continue growth through the following strategies:
Expand within the existing customer base by growing the direct sales team.

Continue to build a high-value brand through customer experience

Add more customers ~currently at 82,000 paying customers

Develop functional workflows with premium functionality

Innovation expansion by growing the engineering team over 89% to expand product offerings

Productize and monetize organization-specific use cases on the platform
- Igli
You can access and download the detailed report here which will include high-level financials. If you like the content please make sure to share this newsletter, share this post, or subscribe (if you have not already)!